Books I've Been Part Of
An Enlightened Entrepreneur has 57 articles I wrote on on personal development and business advice. Most are riffed off of other ideas and some are more original works of my own. Enjoy!
I authored the book "40" about forty life lessons I had learned by the time I turned forty years old (this evolved into An Enlightened Entrepreneur: 57 Meditations on How to Kick @$$ in Business & Life (mentioned above).
Earlier on in my career, I co-authored two books (now out of print) on the software and information industries: Software Industry Factbook (subsequent edition shown below) and Information Industry Factbook (co-authors were Jeff Silverstein, Maureen Fleming and Chris Elwell).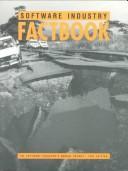 I was also thrilled to be a resource for Marketing Lessons From The Grateful Dead, a neat book that came out in 2010 about the parallels between the Grateful Dead and Internet/Social Media-based businesses.