Tuesday, December 25th, 2012
The Circle of Competence was one of the most important exercises I did before founding our current company Ongig.
The Circle of Competence is simple: you write down the things that you are competent about and draw a circle around it. And then, as Buffett explains, remember that the more you go outside your circle of competence, …
---
Saturday, July 16th, 2011
I love serendipity — who doesn't? I met a mayoral candidate for San Francisco last year due to some stuff I did to increase serendipity.
We all love serendipity — is it ever even a negative thing?
You never hear someone say:
"That guy really stabbed me in the back — how serendipitous."
Right?
The layman's definition of serendipity is "happy accident" — the word serendipity is said to come from author Horace Walpole who riffed on the word Sernedip (an old name for Sri Lanka) used in a fairy tale called "The Three Princes Of Serendip" about making discoveries by accident.
Here are 5 things I do to increase serendipity:
1) Send Out "Beacons" To Let Others Know You Exist
The most effective way to increase serendipity is to send out "beacons" — I first heard this mentioned by entrepreneur Jack Hidary in the book Power of Pull.
Jack — who works on the neat iAmplify.com business with his brother Murray — uses the analogy of a ship at sea that sends out beacons to let others know where it is and where it's headed.
Beacons — I like that.
Here are some examples of beacons I've used to increase serendipity: …
---
Tuesday, May 17th, 2011
I was "running late" for a meeting yesterday (sorry, Jonathan!) — that bummed me out — and while I was sitting in traffic I pondered lateness and committed to banging out this article when I got back to my desk.
Chronic tardiness is rampant:
Up to 20% of the population is consistently late.
CEOs are late 8 out of 10 meetings according to  a 2006 survey by ProudfootConsulting.
I found a neat book called  "never be late again" by Diana DeLonzor who writes about who are almost always late.
Diana lists seven types of people who are almost always late.
I also found three more types of tardy people in a novel about counter-terrorism of all places.
So here they are:
The 10 Types Of Tardies
1) The

Rationalizer
This tardie has a hard time acknowledging responsibility for lateness and tends to blame outside circumstances. …
---
Monday, April 25th, 2011
It took me 40 years to figure out that the key to life is feeling like I had a fulfilling day — I accomplish that through setting goals…and I'm maniacal about them.
I believe that without goals your progress comes to a screeching halt. As Ralph Marston of The Daily Motivator once said:
"Your goals, minus your doubts, equal your reality."
Here's how I set my goals:
---
Monday, March 14th, 2011
Emotional Energy
— How you feel influences how you perform. Duh!
A Major Myth — Most of us believe (wrongly) that to get more work done, we should work more time. Instead, …
-->
Author Tony Schwartz (Be Excellent At Anything) had some good nuggets on increasing energy and productivity at SXSW in Austin today.
Talented artist Sunni Brown did this super-cool live drawing of Tony's talk (below).
Some Of Tony's Energy & Productivity Tips
Emotional Energy — How you feel influences how you perform. Duh!
A Major Myth — Most of us believe (wrongly) that to get more work done, we should work more time. Instead, Tony says, we should manage our energy better.
The Power of Sleep — "Sleep is the single most undervalued behavior in our lives" because of the myth that if we give up one hour of sleep that will equate to one hour of additional productivity.
Quote from Herbert Simon — "What information consumes is rather obvious. It consumes the attention of its recipients. Hence, a wealth of information creates a poverty of attention."
Multitasking is Bad — It is inefficient to multi-task (technically you can only task-shift). If you shift your attention from something, the cost to you is 25% effectiveness on that first item's successful completion.
Two Tips On Improving  Your Productivity— He cites a study of Berlin violinists  by some guy who is an "expert on experts" (they were cited in Outliers)
#1 Practice– The top violinists practiced for 90 minutes maximum in 3 sessions primarily in morning (Schwartz says that it's been proven that you can only practice 4.5 hours total in a day (that's the limit))
#2 Sleep — Schwartz said that the superstar violinists slept more than average violinists (typically 8+ hours per night) and that they also napped on a regular basis (about 2.8 hours per week).
If any of this sounds familiar, it's because I wrote about Tony Schwartz's previous book The Power of Full Engagement in How To Recharge Yourself and The 20 Best Business Books Of All Time.
---
Saturday, February 19th, 2011
My brother-in-law Rich recently asked me for my favorite business book. I had a tough time answering because a slew of book titles raced through my mind.
Well, make room on your bookshelf because I dove in and came up with 20 top business books below:
The Best Business Books Of All Time
1) Poor Charlie's Almanack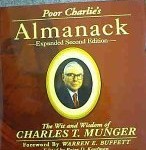 If I had to pick just one business book for folks to read, it would be this illustrated tome by Charlie Munger — Warren Buffett's long-time right-hand man — with its folksy and entertaining tales of business and life (see Charlie Munger Quotes for a taste).
There's plenty of Buffett tips in here too so you get two-for-one! …
---
Wednesday, December 22nd, 2010
I found this terrific video (below) in which Buffett teaches students how to become the business hero they want to be (the video is pretty crappy quality but fantastic content!).
I wrote down the basics of the exercise (it starts around Minute 2 of the above video)
As Buffett explains, you don't have to be a student to benefit from this exercise, but the earlier in life you do it the better!
Ok, grab a piece of paper…this won't take long:
1) Pick a fellow student/colleague who you'd like to own 10% of for the rest of their lifetime
Question: Is it the person with the:
Highest IQ (probably not)
Highest grades (probably not)
Buffett thinks you'll probably end up looking for qualitative factors such as:
Honesty
Leadership
Generous
Gave credit to
Temperament
Write down the qualities of that person you want to own 10% of on the left-hand side of a piece of paper.
and then, to continue the exercise, you then:
2) Pick a person who you would like to "sell short" based on their performance for life.
This would probably not be the person with the lowest IQ or lowest grades — more likely, Buffett says, this person has turned you off with such qualities as:
Egotism
Dishonesty
They cut corners
Write down the qualities of this person you want to "sell short' on the right-hand side of your sheet of paper.
Buffett suggests that if you focus on emulating the qualities on the left-hand side and avoiding the qualities on the right-hand side, you'll eventually become the person that you want to own 10% of.
But even better than owning 10% of that person, you'll own 100% of that person…because it's yourself!
---
Wednesday, November 3rd, 2010
Most of us can use a confidence boost once in awhile.  Here's one exercise I used that works…and it actually feels good and positive as you're doing it!
I call it the…
"Qualities of Achievement Exercise"
Step 1: Write Down One Achievement In Your Life You're Really Proud Of
Write down something that you've done that you're really proud of in life — it can be related to business, family, sports or anything.
What's important about the achievement you select is that it made you feel really good.
Here are examples of achievements I'm proud of:
Winning the championship at a basketball tournament in Fire Island (pictured above)
Moving to San Francisco from New York (which I decided spontaneously with my then-girlfriend in a NY cafe)
Founding a start-up
Playing guitar onstage with my buddy Larry at his wedding reception (see picture below)
Step 2: Write Down The Qualities You Possessed For The Achievement
To the right of the achievement, write down the qualities you possessed (or conditions you set up) to make that achievement happen.
For example, to win the basketball championship I wrote down things like:
I practiced 3 times a week (aka 'created a ritual')
I focused on my strengths (aka 'unique abilities')
I was a team player
I gave it everything I had
I was in good physical shape

It helps to write these down as "I [fill in the blank]" statements.

You should have at least 5 to 10 of these qualities.

Ok, you should be feeling pretty good about yourself at this point…after all, you're revisiting some amazing achievement from your life! That was a great day, wasn't it!?

So, let's do another achievement (you'll later see that it's important to do multiple achievements).

Step 3: Write Down A Second Achievement & List Out The Qualities/Conditions

Step 4: Write Down A Third Achievement & Do The Same

Step 5: Create Your Master List of Qualities Of Achievement

Now that you've done 3 achievements, you should have a list of a couple of dozen qualities listed.

Review the list on the right-hand side (the reasons you accomplished these achievements) as this is your master list of "Qualities of Achievement" — some of the many things you possess to do amazing things.

There will be qualities that repeat among achievements too — even though you may use slightly different language for them — those repeat qualities are arguably among the most powerful qualities you possess!

I found it useful to make a separate list (mine is below) of the repeating qualities. Here are some of my own:

I utilized my network of contacts
I was bold
I focused
I bought time
I was positive
I leveraged my unique abilities
I created a plan
I did the "right thing"
I was persistent
I practiced
I created rituals
I was persuasive

Step 6: Whip Out Your Qualities Of Achievement Any Time You Need A Confidence Boost

Now, what's cool is that any time you are facing some new endeavor, you can look at your 'Qualities of Achievement List"  to be reminded of the qualities YOU possess to further achieve!

Furthermore, these qualities will give you ideas on how to tackle your new achievement!

After all, you achieved greatness before…and you will surely achieve it again!
---
Pages:

1