Wednesday, April 27th, 2011
"Ideas are like a$$holes…," my friend Ralph once said: "…everyone has one!" Ralph's gonna hate me for mentioning that one!
You hear it almost every day: "I have an idea for a new product…or a new Web site."  Perhaps you even say it yourself.
But most often the idea dies right there…or, worse, you hear someone whine or brag about the idea later when someone else has turned it into a product.
"Hey, I thought up a car sharing service just like Zipcar five years ago!"
If you want to avoid being one of those idea-snobs, here are 7 mistakes to avoid when you have an idea that you want to turn into a reality
1) You Keep Your Idea A Secret
Many people keep their ideas a secret — they don't share it with anyone. This is probably the worst mistake you can make.
This may you are worried someone will steal the idea or  because you fear failure or lack confidence.
I suggest that you keep your ideas in a journal…I use Google Docs (pictured above) to keep my ideas (and ideas of friends) and I rate them based on:
How much capital I have to put at risk to test the idea
How much financial upside the idea has
How confident I am in the business model of the idea
How close the business idea is to my core competencies
How consistent the idea is with my values
How fun the idea is
And I can pull up the pipeline of ideas any time on my iPhone. …
---
Monday, April 4th, 2011
We all have fears…and some are even less scary than fighting a 7-foot martial arts specialist.
14 Quotes About Fear
1) "I fear not the man who has practiced 10,000 kicks once, but I fear the man who has practiced one kick 10,000 times." — Bruce Lee …
---
Saturday, February 19th, 2011
My brother-in-law Rich recently asked me for my favorite business book. I had a tough time answering because a slew of book titles raced through my mind.
Well, make room on your bookshelf because I dove in and came up with 20 top business books below:
The Best Business Books Of All Time
1) Poor Charlie's Almanack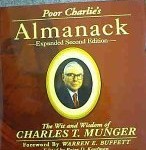 If I had to pick just one business book for folks to read, it would be this illustrated tome by Charlie Munger — Warren Buffett's long-time right-hand man — with its folksy and entertaining tales of business and life (see Charlie Munger Quotes for a taste).
There's plenty of Buffett tips in here too so you get two-for-one! …
---