Monday, July 16th, 2012
The cool thing about problems is when people are honest about them, tackle them and then share their "secret sauce" about how they did it. I'm proud to say that my friend Kamal Ravikant just nailed it in his latest book: Love Yourself Like Your Life Depends On It.
---
Saturday, February 19th, 2011
My brother-in-law Rich recently asked me for my favorite business book. I had a tough time answering because a slew of book titles raced through my mind.
Well, make room on your bookshelf because I dove in and came up with 20 top business books below:
The Best Business Books Of All Time
1) Poor Charlie's Almanack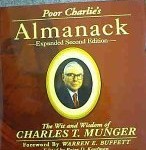 If I had to pick just one business book for folks to read, it would be this illustrated tome by Charlie Munger — Warren Buffett's long-time right-hand man — with its folksy and entertaining tales of business and life (see Charlie Munger Quotes for a taste).
There's plenty of Buffett tips in here too so you get two-for-one! …
---