Saturday, August 6th, 2011
The "Dean Of Copywriters" John Caples famously said that an effective marketing piece/ad can have 19.5 times the success of a poorly written ad. And the most important aspect of advertising is the headline.
In fact, 5 times as many people read headlines as read the body copy of an ad, according to David Oglivy in his Oglivy On Advertising (A Top 20 Best Business Book Of All Time).
Maybe you're not directly in marketing/advertising, so should you care?
Big time!
If you do any of the following you will benefit from improving your headline writing skills:
Write emails (the subject line is your headline)
Name things (whether your product or your business or, in some cases, your child!)
Write blog postings
Write a description of yourself on your resume or LinkedIn profile
I'm by no means a copywriting expert, but I hang out with some and I've studied some of the greats (David Oglivy, Al Ries, Jack Trout, John Caples).
So I am going to share 10 awesome headline-writing tips I've learned along the way. …
---
Saturday, February 19th, 2011
My brother-in-law Rich recently asked me for my favorite business book. I had a tough time answering because a slew of book titles raced through my mind.
Well, make room on your bookshelf because I dove in and came up with 20 top business books below:
The Best Business Books Of All Time
1) Poor Charlie's Almanack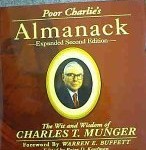 If I had to pick just one business book for folks to read, it would be this illustrated tome by Charlie Munger — Warren Buffett's long-time right-hand man — with its folksy and entertaining tales of business and life (see Charlie Munger Quotes for a taste).
There's plenty of Buffett tips in here too so you get two-for-one! …
---